Carcassonne was removed from sale on Feb 29th 2020.
»It is quite simply one of the most polished games on the platform«, wired.com
»Carcassonne has undoubtedly raised the bar high for spit and polish«, Touch Arcade
»Of all the tabletop games I have played on my iPad while pooping, nothing has as much time invested in it as Carcassonne«, Wil Wheaton
About the Game
Carcassonne is a German-style board game played by placing tiles and game pieces on a table. While playing, a medieval world of towns, roads and fields unfolds on the table.
Carcassonne for iPhone and iPad keeps all the charm of the board game and adds features only a digital board game can provide, like networked multiplayer or taking care of cleaning up the table after a game.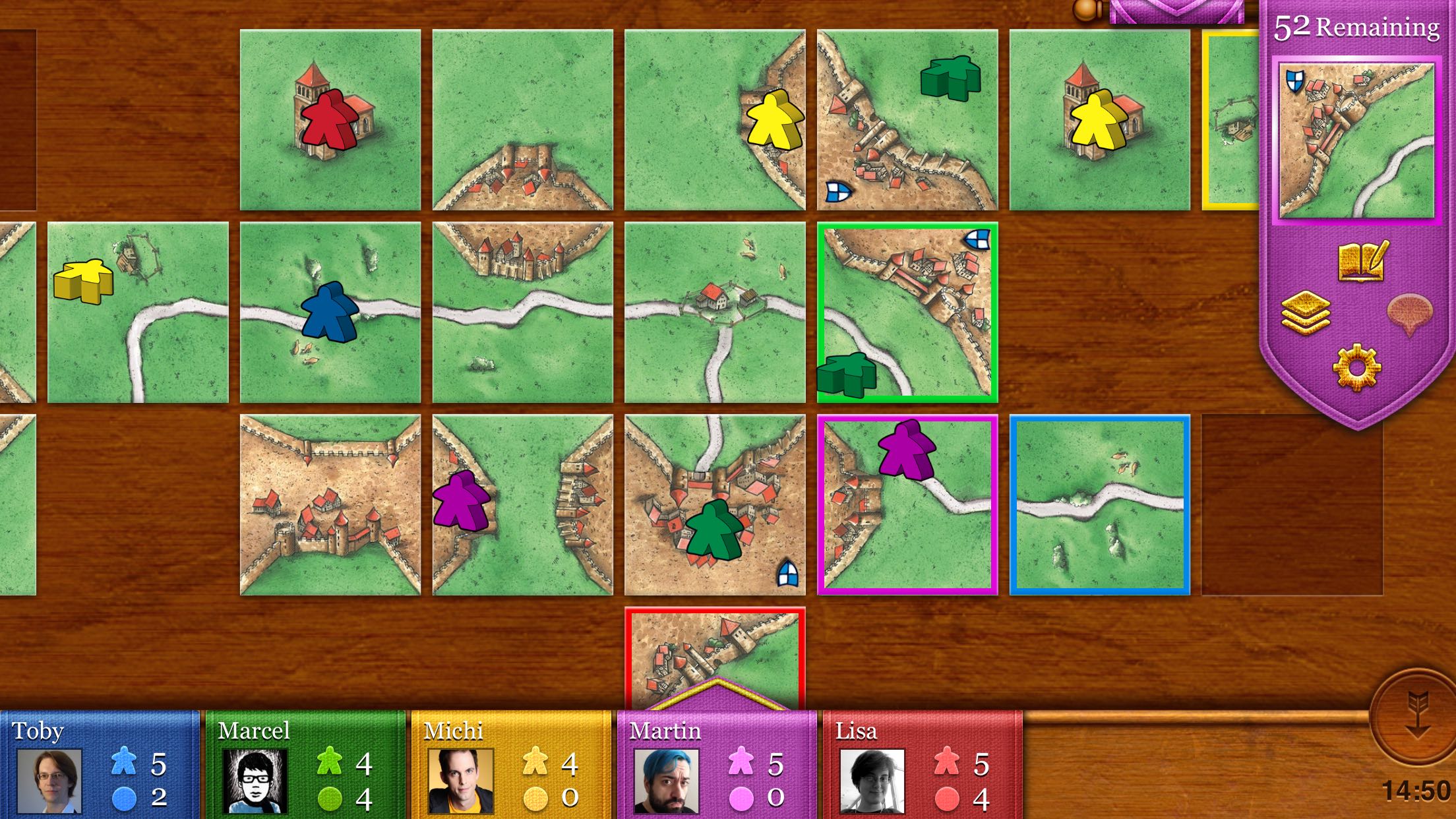 Official Carcassonne game with original artwork
9 different AI players
Online Multiplayer with
Push Notifications
Local Network play with Bluetooth and Wi-Fi
Unique Solitaire mode
Available in English and German language
Online and Offline Ranking
Comprehensive in-game manual and rules
Play with Game Center friends
Game Center Achievements
Tutorials with Voice Acting
Chat function for Internet and local network games
Expansions
---
Like the board game, we add new expansions from time to time. They are sold as in-app purchases and can be combined as you wish. We are bring those expansions first, that are most eagerly awaited by players. Let us know if you are missing your favorite!
Winter Edition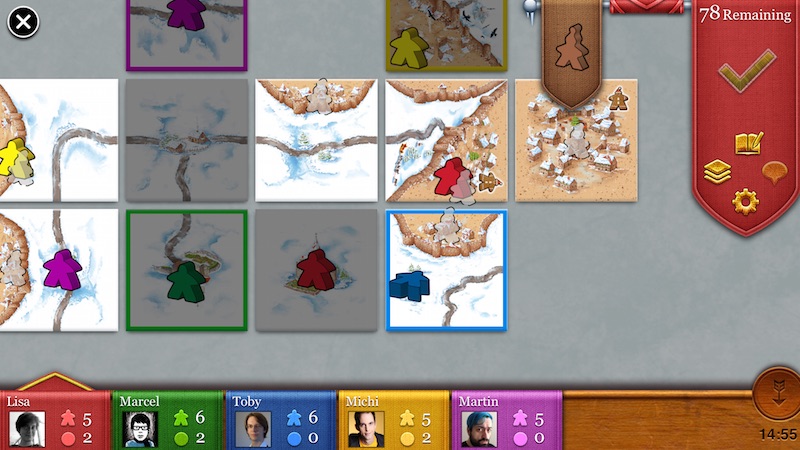 A cold winter has wrapped the walls of Carcassonne. The citizens waste very little time before preparing hot beverages and sweet pastries. Includes a winter base set, twelve additional new tiles, six Gingerbread tiles and a Gingerbread Man.
Phantom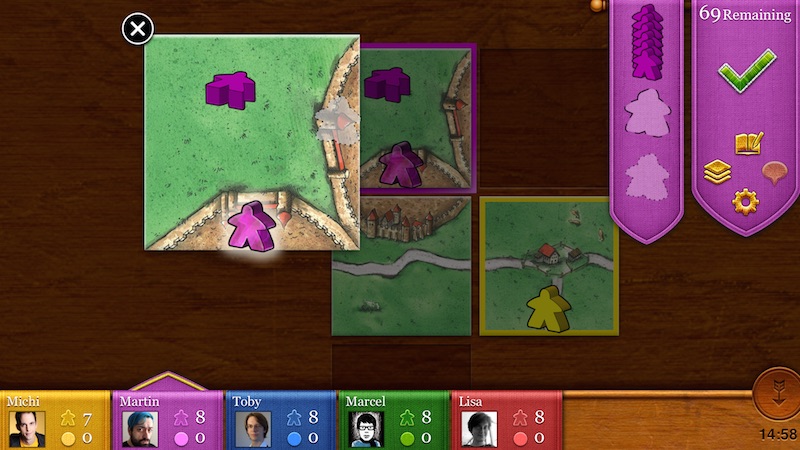 The phantom is a ghostly meeple that can be placed in addition to your normal meeple each turn. Includes a new piece.


Princess and Dragon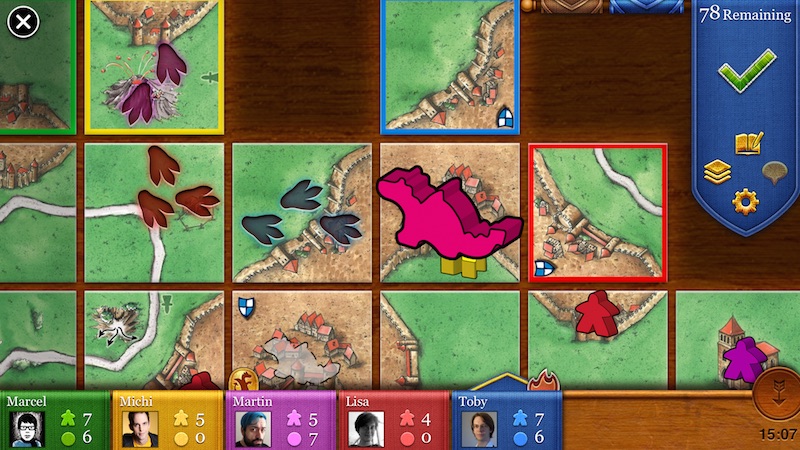 The dragon lays waste, the princess kicks meeple out of her castle. The fairy grants protection and bonus points, magic portals teleport meeple. Includes thirty new tiles and a four new pieces.
Traders and Builders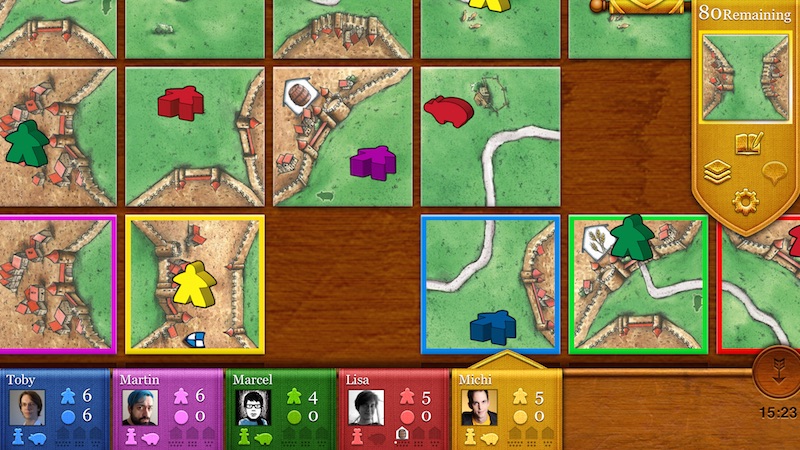 The builder gives you additional turns. The pig makes one of your fields more valuable. Collect goods for additional points at the end of the game. Includes twenty-four new tiles and a two new pieces.
Inns and Cathedrals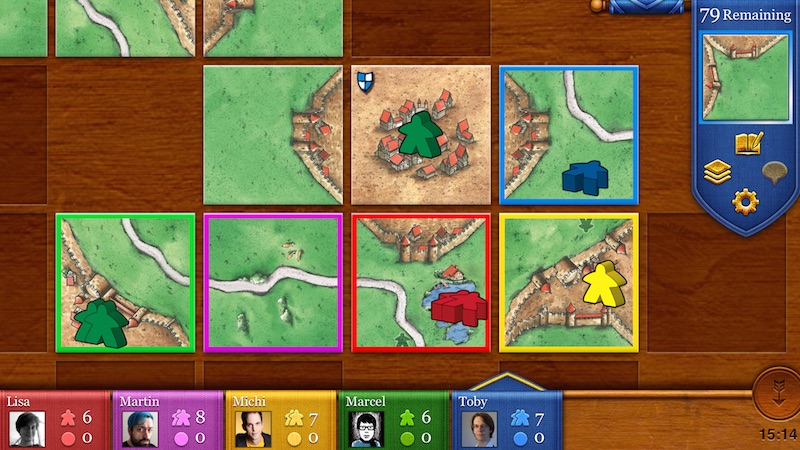 The double follower has twice the power of a mere single one. Inns double the value of a road, while Cathedrals add a bonus point per city tile. But beware: They are risky, because unfinished settlements have no value at all. Includes eighteen new tiles and a new piece.
The River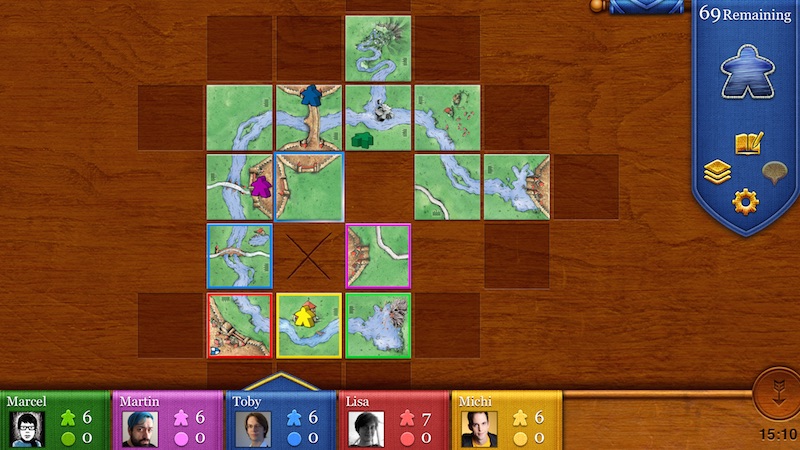 A river flows through the countryside, dividing fields, cities and roads. Lay out your river wisely in the beginning of the game to gain a strategic advantage later. Includes twelve new tiles, which are played right at the beginning of the game.
Questions and Support
---
Press Kit
We have a press kit available, if you are looking for basic information, images and videos about Carcassonne. Please let us know immediately if we can assist in any further way.
Questions
How much longer is Carcassonne available?
The last day it will be available for purchase is February 29th 2020. See here for the full press release.
Will I still be able to play after March 2020?
Yes. The app will just continue to work. Local games and multiplayer will not be affected at all. Only Internet games depend on our servers.
How do I restore my expansions?
You can restore your purchases free of charge in the app's purchases menu. (The treasure chest in the main menu.)
Can I play with expansions in quick play?
Yes. However currently we limit the combinations of the expansions in quick play to avoid fragmentation of the player base and longer waiting times for games. We try to give three or four useful combinations for quick play.
How long will online play still work?
We promised to keep the server infrastructure up and running at least until 2021. After that we'll keep it running for as long as it is technically feasible. With the 4.40 update we also added the possibility to buy an in-app purchase subscription to help us run the servers longer.
I missed the latest update before it was removed from sale, how can I get it?
In this case you first have to offload (not delete) the app before reinstalling it through your purchase history. You can do that in Settings.app > General > iPhone/iPad Storage > Carcassonne > Offload app.
Can I play asynchronously?
Yes. In "Play with Friends" you can leave the app and will be notified when it's your turn again. No pressure though, unlike "Quick Play" there are no time limits.
Can I play against my family or friends by passing the device around?
Yes, of course. Up to five players can play on the same device.
How do I get the App on new devices after March 1st 2020?
Since you can't buy it anymore, the App Store page will be gone and you won't be able to find it. However, you can download the app through your purchase history.
Do I need to buy the expansions to participate in a game with expansions?
If you are playing local network multiplayer you can share an expansion with your opponents. To play online multiplayer, you need to buy the expansion to play with it.
I do like the background music. Is there a download?
Yes. Here is a premixed track for you.
Help! I'm trapped in a game!
Try opening this link in your iPad's or iPhone's Safari.